What a good start to the week! Even though I woke up feeling super down and flat, I managed to pick myself up by lunch time to really get stuck into lifting some weights.
WOD
10mins cross trainer, Random, Level 14 warm up
DB flys at 6kg
DB bench press at 12kg
Incline DB press at 10kg
Cable cross over at Level 3
3 x 20 toe touches with medicine ball
2 x planks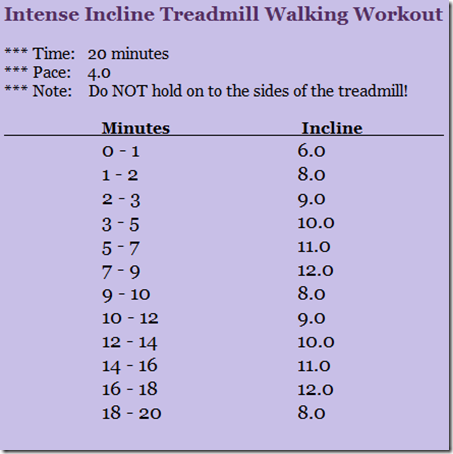 Link to the Peanut Butter Fingers' original post is
here
.
This workout helped me cover a distance of around 1.98kms and I climbed around 190m. My legs were feeling the burn so much I decided to jog at a speed or around 10 up to a distance of 2.5km.
If you want to get into cardio but are really unfit, or if you have an injury which is stopping you from running; I really recommend getting on board with these incline treadmill workouts. They are serious and I always feel like I have had a good burn afterwards.
My right leg is still really sore and I believe I may have run on my old running shoes for a few miles too many. I believe I have the start of shin splints! Darn! So these next few weeks, walking and cross trainers will be my friend. Might even get into the rowing as well as I love nothing more than attacking a rower with some
decent tunes
.
After leaving work I got home pretty late (and frozen). But that didn't stop me from making some more
protein muffins
for the week. Can't wait for snacking today!
What is your treadmill style? Do you mix it up or do you just try and thrash out a good time/distance? Have you ever seen someone running backwards on a treadmill?